Today is my last day at Central Luzon 2 Regional Business Center (CEL 2 RBC) of Philippine National Bank (PNB). I spent my 120+ hours there for OJT and I learn a lot. Some of the things I've learned there are: how to operate Xerox machines, how to operate fax machines, how to use a typewriter etc.
And a few pics..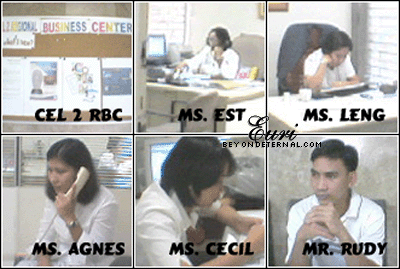 Ms. Est is the Vice pres and the Regional Business Manager of CEL 2 RBC. Ms. Leng is the Reserve Business Manager. Ms. Agnes is the Field Operations, Ms. Cecile is the assistant (I forgot her title) and Mr. Rudy is the janitor.
I was kinda assigned in the office of the vice president so everyone there is kind of "high ranking". They always treat me snacks. Sometimes, even lunch and breakfast. Working there is fun and I could even apply there if I like. But banking stuff aren't my passion. I would still prefer the web designing one if I would be given a chance to. During my stay, I've seen almost 15 of the Business Managers around PNB. They always hold meetings and stuff there. 😉 And they also treat me! 😆
I brought cakes for them as a despedida and I'm gonna miss everyone.