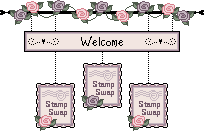 Stamp Swaps
Back in 2003-2005, collecting pixel stamps were very popular among website owners. The idea was to collect and/or create your own stamps and swap it with other website owners. Thus, it was commonly known as "stamp swaps."
It was started by Stormmey of The Graphics Barn and eventually, spread across. There are those who sell limited stamps for you to collect too. At that time, I do not swap stamps with others. I just collect the stamps that I like.

Collecting stamps gradually died through the years and most of the sites these stamps from my collection came from, are now dead. Even so, I still keep and collect them just for the love of it.
If you also collect and/or swap these stamps and wanted to trade stamps with me, please feel free to drop me a message on my guestbook or send me an email. I'll be sure to visit your website!

To grab my stamps, simply click them. You can either save them to your own server or copy the URL directly.
If you grabbed any of my stamps below, please link it back to:
http://www.beyondeternal.com


* Stamp 5 was made for me by Sandy.









Graphics used in this page are by:



Premade stamps, and graphics used in them were from:
Graphic Garden, Stinas Stamp Swap, Ruth's Home Graphics, Whisper's Castle, Cherish